Vision and values
Our vision
"We lead in building thriving communities"
Each year we build many new affordable homes and manage a total portfolio of around 45,000 properties; providing a range of maintenance and support services that help enrich the lives of our customers.
Over 100,000 people live in an Orbit home and our aim is to ensure the homes we provide and the places we create are good quality, affordable and safe.
We play an active part in the neighbourhoods where we work, supporting local economies and social activity within communities.
Our values
We deliver or vision through a values-led, performance-driven culture.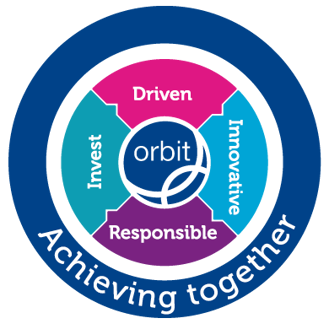 Our values shape how we do things. Our people demonstrate these every day when working with customers, colleagues and partners. It is Orbit's values-based culture that makes us different and will drive long term sustainability.
We believe in making profit for a purpose; the more we make, the more we invest into improving our services as we play a significant role in driving UK housing growth.
Our expertise is in building places and thriving communities.  We provide a choice of different homes to meet the diverse needs of society, and we work with partners to enable our customers to live fulfilling and happy lives.