Orbit has accelerated its goal of a greener future, by installing new electric vehicle charging points at its Garden Court office in Coventry.
Orbit has accelerated its goal of a greener future, by installing new electric vehicle charging points at its Garden Court office in Coventry.
The three new 'Pod Point' units are free for all employees to use from 1 October. Electric vehicle charging points are also available at Orbit's Stratford-upon-Avon office.
To use the electric charging points, drivers simply download the 'Pod Point' mobile app, connect the cable to an electronic vehicle and the charge will start immediately.
As of 18 months ago, Orbit's standard design specification was updated to include electric vehicle charging points at all its new housing developments. An electrical charging facility must also be included for each new dwelling, where it is practically possible to charge cars.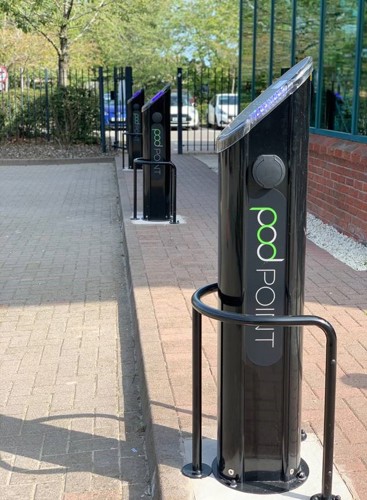 The installation of these new environmentally friendly charging points is part of Orbit's wider commitment to reducing its impact on the environment and building a more sustainable organisation, through its Orbit Earth programme.
The Orbit Earth programme was created with a vision to take achievable, but ambitious steps in reducing Orbit's carbon footprint. Orbit Earth's aims are to become net zero carbon, to improve the quality and biodiversity of our green spaces and to develop and manage a sustainable supply chain.
Colin Welsh, Head of Facilities at Orbit, said: "Being a sustainable business is important to us, by installing these new electric vehicle charging points at our Garden Court office in Coventry and making them free for employees to use, we hope to encourage electric vehicle uptake. Installation of these new 'Pod Points' supports Orbit's wider commitment to take responsibility for our impact on the environment, as part of our Orbit Earth programme."
Jessica Marshall, Environmental Impact Coordinator at Orbit added: "We hope that the installation of these new electric charging points at Garden Court will encourage employees to choose electric vehicles over petrol or diesel. By having charging facilities at work, this makes buying electric a more practical option for people.
"We have received lots of feedback from employees who are considering buying an electric vehicle and have asked whether Orbit can make charging points available – so from two perspectives, the installation is employee driven.
"As an organisation one of our aims is to reduce our carbon footprint, the more employees that travel into work in electric vehicles, the more we can reduce this. Orbit Earth is also about inspiring people to make more sustainable choices at home too, we hope the installation of these 'Pod Points' will help to do this."
Orbit is continually looking at ways to incorporate green initiatives its day-to-day activities. This has included switching to 100% renewable electricity across all its offices and communal areas over the past 12 months, improving biodiversity across its green spaces and investing in electric grounds maintenance equipment.
In addition, as part of Orbit's employee volunteering scheme, over 4,500 trees were planted across its communities last year.
Warm homes and a safe environment
At the beginning of September, Orbit launched a joint report with the Chartered Institute of Housing (CIH) which outlines how the government and the housing sector can work together to tackle climate change and work towards achieving ambitious government targets to reduce carbon emissions.
The report sets out why the housing association needs to act now, what government should do to ensure its targets can be met, what it means to achieve zero carbon homes and the vital contribution needed from social landlords. 
This new joint briefing 'Warm homes and a safe environment' is the first part of a two-stage project. Orbit and the CIH are working on a further, more detailed guide for social landlords to be published next year.
To download 'Warm homes and a safe environment' click here.